20 Feb '22
"he bewitcheth children's minds"
Inbox #2
Inbox #2: 20 new messages
---
+ Write a message for the next inbox
---
From: anonymous
Subj: Re: TOO POWERFUL
anonymous wrote:

YOU WON'T SHOW THIS CAR
YOU CAN'T HANDLE THE POWER
the car was indeed too powerful. you should have not shown it. now it is too late and we don't know what will happen next
---
From: Richard Tingley
Subj: Comic strips I'm never going to make No.1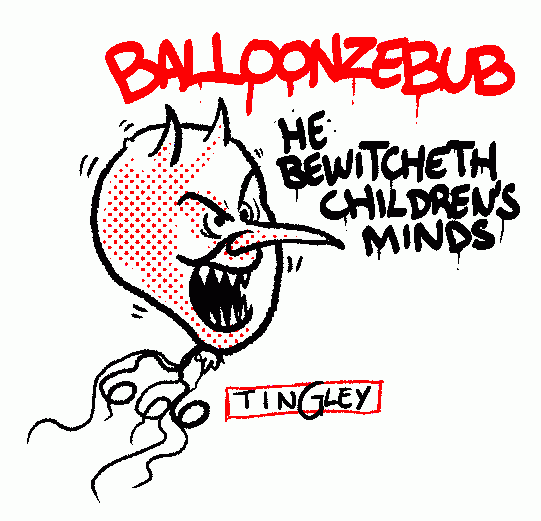 ---
From: stx
Subj: Why didn't they call him DJ R. Hartley?
A few words about a poorly executed remake of Britain's favourite advert* :
Let Your Fingers Do The Raving
*Source, Channel 5 Christmas Schedule or something
---
From: Edwin Danton
Subj: Norman Norming

Norman sat in the car alone and stared. A repeat of the last six nights, he'd driven the four hours from Reykjavik to the coast of Trollaskagi, a peninsula in northern Iceland. I want to see the Northern Lights, he'd told his co-workers. The longer the trip the better the destination, he replied when they said there was no need to go so far.
The real reason for the journey was it was the first excuse he'd used to get out of socialising with his co-workers instead of saying he'd rather go home and watch tele. His conscience wouldn't allow him to lie so here he was.
For the seventh night in a row, just nine days after leaving Sheffield for Reykjavik, here was Norman parked up at the end of a road listening to the sea crash against rocks, sea birds scream, and Icelandic murmur calmly from the radio. (He was unaware it emanated from a desolate shack occupied by a lone, radio-obsessed man reading out the entirety of a newspaper from the 4th April 1979 over and over again.)
He watched as the moon disappeared behind black clouds and decided next week, maybe, he'd go for a couple of drinks after work. If he didn't embarrass himself he could keep doing that and stop spending so much on petrol, but then again, will they even invite the mad ever-driving Englishman by then? He'd probably have to think of a new excuse. Tomorrow, he thought, I'll think of one tomorrow.
A seagull flew past his windscreen facing the wrong way, and Norman realised it felt like three stout teenagers were trying to rock his car over. That's probably not good, he thought. Uncharacteristically, his phone buzzed.
Hi Norman, hope you're not still at Trollaskagi. Big snow storm coming in from the east. Head back now if still there. See you in the office tomorrow (or in the morgue the day after lol). Auður x
Considering the poor signal where he was, it was impossible to know when the text was sent. Regardless, it explained the reversing gulls. As Norman started up his car, the man in his shack explained the sordid details of an affair between a politician's son and a diplomat's wife.
After a half hour on the road the weather was far more present. The wind, at least, was behind him, but the snow, unfortunately, was all around him. Visibility was dropping as the roads became more treacherous. If he hadn't driven them for the last week, he would have been far more worried, which would have tipped him into whatever is beyond mortally terrified.
He was making good time, but so was the storm. Could he survive a night in his car, he wondered. He presumed so. Although not sensible enough to check the weather, he was paranoid enough to keep his car packed ready for the apocalypse. It would be cold and uncomfortable, but he could make it.
And what a story, eh? Norman, who had only learnt to drive a year ago at the age of 37, who had felt a cold drip of shame every time driving conversations began. Oh, you must take a road trip in Germany, people would say. Germany? It's nothing compared to the States, I mean, Route 66, how can you beat that, some other people would say. And the whole time Norman would edge out of the room to avoid explaining the bus routes that brought him to this conversation.
But look at him now, facing white death as he barrelled through an icy tundra on foreign roads. Germany? Pah. America? Pah! Pah! They're nothing! Try racing a snowstorm at night in northern Iceland if you can handle it. That's life or death that is and I, Norman, have done it! he proudly imagined saying.
Now this is a car story, he thought, as the man in the shack ran through the football scores.
---
From: Jenna Appleseed
Subj: Re: Hello
HappyToast wrote:

Who's your favourite Columbo murderer?
Johnny Cash not quite playing himself, freaking me out watching it for the first time singing a completely different version of a song I'd heard in the 90s and couldn't trace - turned out to be The The's sleazy cover of I Saw The Light, a song going way back to Hank Williams
Johnny Cash singing it on Columbo (plus bonus me wittering on about trying to find that song in the comments)
P.S. Anyone interested in virtually throwing stuff at me for a Dennis Wilson/Beach Boys charity zine? Current loose theme is surfing, off brand compilations and odd/unofficial merch on etsy etc.
---
From: Afor
Subj: mail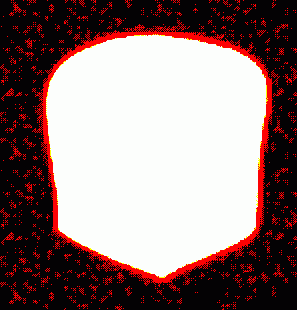 It's great to meet this vmail group. glowing bread
---
From: kinduff
Subj: The weight of the clipboard
      .__---~~~(~~-_.  
   _-'  ) -~~- ) _-" )_  
  (  ( `-,_..`.,_--_ '_,)_  
 (  -_)  ( -_-~  -_ `,    )  
 (_ -_ _-~-__-~`, ,' )__-'))  
 _ ~`_-'( (____;--==,,_))))  
        `````      `-_(())_-~  mn
It happens when I cut something with ctrl + X.
When I have asked other peers in the past about it they tend to agree. There's a weight to having something in the clipboard.
I don't know the exact word. It's like an undescribed feeling. Like a missing word from the dictionary like some languages have.
It's not the feeling of owning something. It's not having something missing. Neither is to have some sort of occupied space in the head. Or a technical impediment of continuing with one's work.
It feels more like an invisible weight that can be felt through every idea and keystroke. Through every executed action, like something you can lose, something you need, something missing from the stream of data you're writing.
I usually relieve this by pasting it into another tab or undoing my previous action. Sometimes I can kick it off by copying something else, something dull.
It's like taking a shower and not knowing if you washed your hair. Just wash it again to make sure.
Just paste it somewhere else to make sure.
---
From: Joe
Subj: Cars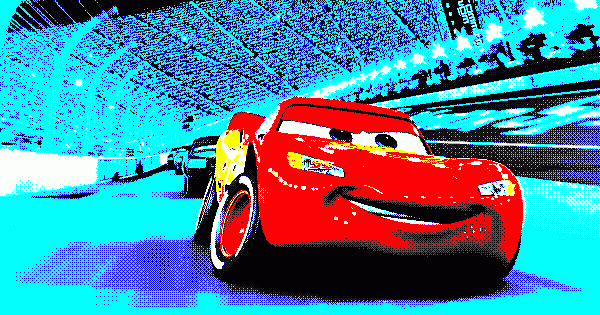 I've always been perplexed by the Cars franchise. The first movie starts with Lightning McQueen struggling to win a race against his foes. The third movie was also about racing. The second movie is a complicated spy thriller about lemon cars starting an alternative fuel conspiracy to drive more business into the oil and gasoline industry. So its an interesting franchise. But I do wonder, what are cars like? They have eyes and a mouth, but do they have other features? Do cars have noses, brains, a stomach, or is the stomach their engine? If there's an electrical and mechanical engineer, please explain to me
---
From: a Frogge
Subj: milo is love, milo is life
for context: milo is a malt drink from australia and popular there, and in southeast asia (i believe) and basically it kinda tastes like chocolate milk? anyways i just wanted to write in to say that milo is a great drink and if you haven't drank it before, you're missing out, i may be biased but it's great
---
From: Kristoffer
Subj: Scavenger Hunt: Win Your Own Private Island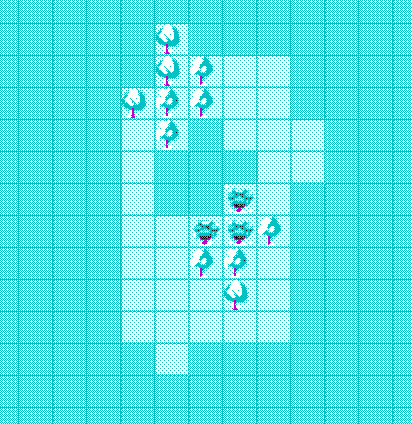 Hidden in the squares of Wilderness Land are hundreds of websites. If you are the first to find links fitting the descriptions below, I'll make you a private island on the map.
A site with many colours.
A site with sounds of nature.
A site with frustrations.
To claim your reward, email kristoffer@naiveweekly.com with coordinations and links.
---
From: anonymous
Subj: Re: shopping list
They do big Petit Filou now, and it upsets me that these aren't called 'Grand Filou'.
C'est tout.
---
From: Captain Crackerjack
Subj: Re: shopping list
Mark "the man" Mann wrote:

- chicken tikka slices - lurpak spreadable (NOT "light" rubbish) - big crisps, posh if discount - dark choc digestive - ...

...2 way adapter - orange squash - NO CAKE - cotton buds - petit filou - bread (not cheapest stodge) - vienetta - carrots
This is the most depressing shopping list I've ever read
---
From: Mark "the man" Mann
Subj: shopping list
butterscoth angel delight
potato waffles
chicken kievs
roast potatoes
bisto
fish fingers NOT the disgusting greasy battered ones
anti-dog-wee spray
binbags
dairylea dunkers
sponge scourers
aa batteries NOT aaa again
NO CAKE
sellotape
lynx dark temptation
nail scissors or clippers
air freshener not that pink one
hotdogs
finger rolls
fried onions ready cooked?? or sliced?
wet wipes
---
From: Captain Crackerjack
Subj: The best things
OK this is a list of the best things:
Platinum (that stuff is shiny)
The tears of a newborn child (they don't actually make tears when they cry so if you can get some it's worth a fortune)
A sandwich sandwich - put a ham sandwich INSIDE a cheese sandwich and you'll agree that it's utterly bob-on
That episode of The Friends where Joe farts on Bing's forehead
A simple stick, such as you might find in a woods near your house or far away from your house
---
From: sensory:deprivation
Subj: 1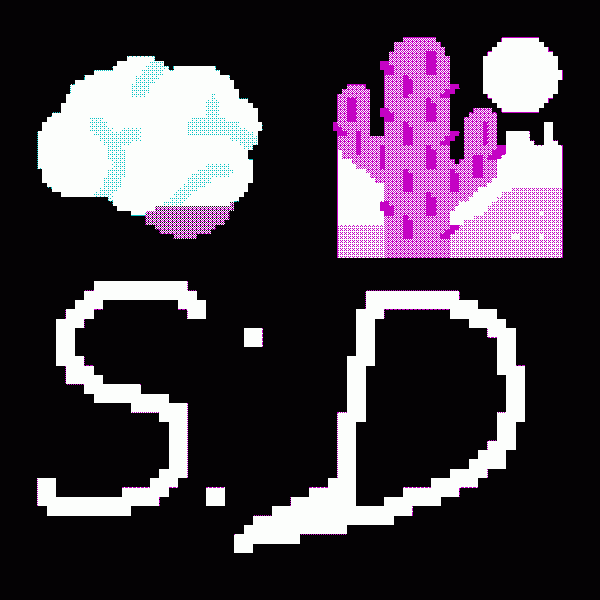 ENOJY
---
From: anonymous
Subj: Daily Reckless
The Daily Reckless is the paper that sings the news. A new song every single weekday. And frankly, we're exhausted.
---
From: Hubert Huzzah
Subj: Recycled Saints #2276: Saint Expedite.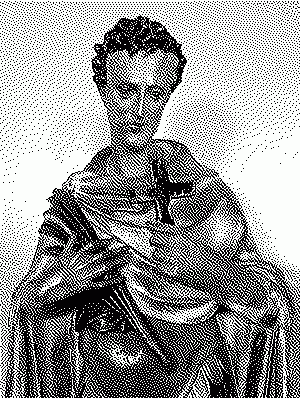 A large packing crate arrived at a warehouse in New Orleans with all associated delivery information having been lost in transit. Nobody arrived to claim the Crate and so, after a year, the Workers opened it. It had been a year and Company Policy was to dispose of abandoned goods.
The Workers hoped, perhaps, to find some information inside. Instead, they found a carefully packed marble statue of what appeared to be a Saint. The robes. The benevolent countenance. The pious attitude. The beatific smile. All attested to sainthood. It could be no other than a Saint. True, the Halo was a little odd: an isoceles triangle. It was clearly a halo. Burnished and highlighted with gold leaf. The veterans of the Warehouse agreed. This was a Saint.
Nobody knew which Saint this might be. There were no clues. The face might be a woman or a youthful man. The hands were delicate and the robes were flowing. So the fall of the apparel gave no indication other than androgyny. Clearly a Saint. Emanating a serenity that spoke of spirituality. A Saint.
After some ill advised rum and late night stocktaking of all the unclaimed crates in the warehouse, a miracle occurred. A Worker, exhausted from a long shift expostulated, "Saint Expedite the onward freighting of these Unclaimed Goods!" By the following morning, all of the unclaimed crates were gone.
Thus did Saint Expedite perform the first miracle of the Warehouse and so began the cult of Saint Expedite of New Orleans.
---
From: Barry
Subj: Music videos I made that MTV will NEVER play*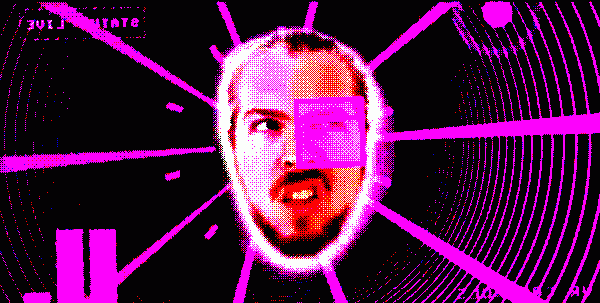 Hello Vmailers - there hasn't been an internet thing that I haven't yet used to try and get more attention for the music I make, so would seem rude to leave this one out.
Here are two music videos that I'm super proud of that have yet to become The Next Gangnam Style:
Oxygen Thief: Lost in the Post
Big riffs & yelling from 2018 where we imagined a dystopian future where people could only experience live music online. There's lots of fun edits and visual gags in this.
Non Canon: The Sayings of the Seers
Melancholy indiefolk shot in February 2020 where we accidentally predicted lockdown.
Both videos shot/directed/edited by Owain Paciuszko - we promise that our next collaboration will not be accidental harbingers of global doom.
*in part due to the fact that I've not sent either of them, but mainly because they just show weird reality TV stuff these days right? Or they did when I last had a Sky subscription circa 2012.
---
From: anonymous
Subj: my opinion
is that no actual voles are involved with this thing.
how many, do you say?
none.
---
From: anonymous
Subj: POWER RELEASED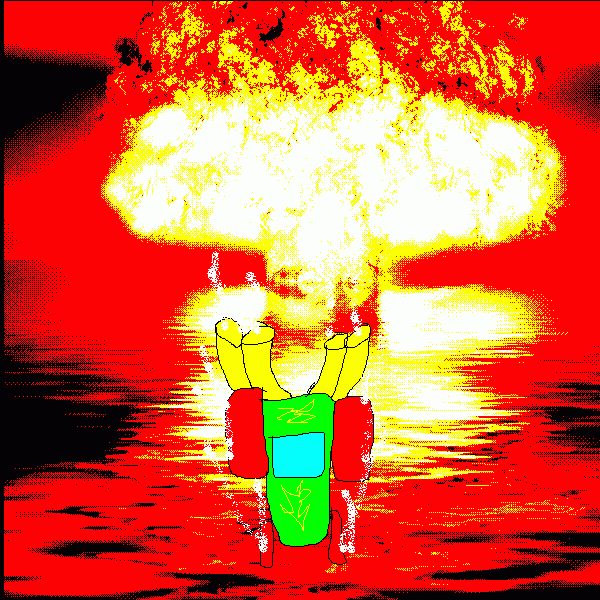 THE END? (OF THE WORLD)
---
Disconnecting...
+ Write a message for the next inbox
= Web archive of past messages
---
Sign up to get future issues & submit stuff: